Co-founder of the Q Institute and creator of "Free from the system"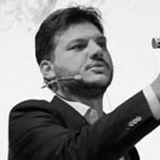 Mr.Marco Fincati, creator of the RQI Method and author of "RQI – The Secret of Self-Well-being", is a researcher, trainer and therapist.
After graduating in Statistics in Padua and working as a sales representative for a major company of phytotherapeutical products, he has spent years researching the disciplines, techniques and products for well-being and self-healing, with the aim of giving everyone the opportunity of being owners of Oneself.
Thanks to ancient philosophies, Traditional Chinese Medicine and the discoveries of the New Science in the fields of Quantum Physics and Energy Psychologies, he devised the RQI (Integrated Quantum Rebalancing) method
"It has been a long and emotional journey, also expensive. I have invested all my resources in training and more than 10 years of my life in the constant search for courses and methods of self-healing and personal growth, which today leads me to say: everything works (techniques and products) … but not for everyone!"
Each one is a unique Divine being. We should look inside ourselves to follow our Master. The RQI method is a set of internal and external procedures and technologies to obtain and maintain communication with our divine spark. Only in this way each problem becomes a growth opportunity".
You can learn NOW the RQI method, Fill in this form now:

SCOPRI L'RQI® - RIEQUILIBRIO QUANTICO INTEGRATO E RESTA IN CONTATTO CON L'IDEATORE MARCO FINCATI
Compila il modulo e ricevi subito le Video-Lezioni Gratuite.